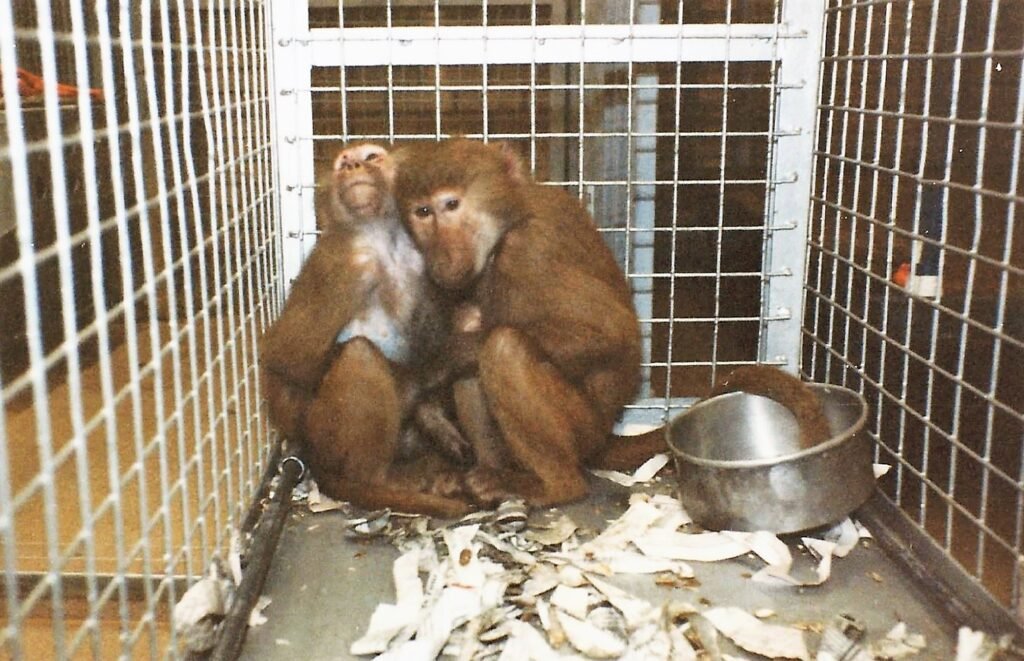 Dejected and confused young baboons just released from their cramped crates receiving rest and comfort
at Heathrow's quarantine station
before their onward flight
to America destined for research.
[Photo: 1980 John Brookland]
The Monkey run.
Hundreds of thousands of research monkeys and baboons passed through Heathrow Airport between the Second World War and the 1980's mainly destined for research. It was dubbed as the massacre of the monkeys by the media. The trade was colloquially known as the "monkey run". They were mainly destined for polio, infantile paralysis research and rocket tests. Some cynics suggested that the monkeys met a better death by suffocation than they would have done had they reached their destination.
During this period on average 10,000 monkeys passed through each week in shipments of up to 1,600 mostly from India and Africa but also South East Asia and South America. Most were heading for North America and Europe although many were imported into the U.K. In the fifties and sixties there were also specially chartered flights arriving at airports across the country full of monkey shipments. Some of them managed to escape causing media headlines.
Massacre of the monkeys.
On New Year's day 1955, 457 Rhesus monkeys were left in an unventilated British Overseas Airways Corporation (B.O.A.C) van for three hours on the tarmac at Heathrow Airport awaiting loading onto an aircraft. When the back door was opened 394 had suffocated to death. It was dubbed by the media as the massacre of the monkeys. Another 1000 sitting in two ventilated vans survived.
Although a deplorable incident, it was unfortunately not an isolated one as it was a regular occurrence. Dozens of incidents over the decades made headline national news, but no serious action was ever taken. Thousands continued to suffer or die during capture and holding, then on their way to Heathrow, more on the onward journey and of course few survived the research done on them.
RSPCA open a hostel to deal with the carnage.
Because of the carnage occurring at Heathrow, the world's main transit hubs at the time, particularly with primates and birds, the RSPCA opened a facility in 1953 to temporarily give them respite and care while they transited or were delayed. Over the next few decades, the staff were to witness regular weekly horror shows and helped and comforted these frightened, stressed and pitiful monkeys. Pulling out dead and dying monkeys and new-born babies or aborted fetuses would often reduce them to tears.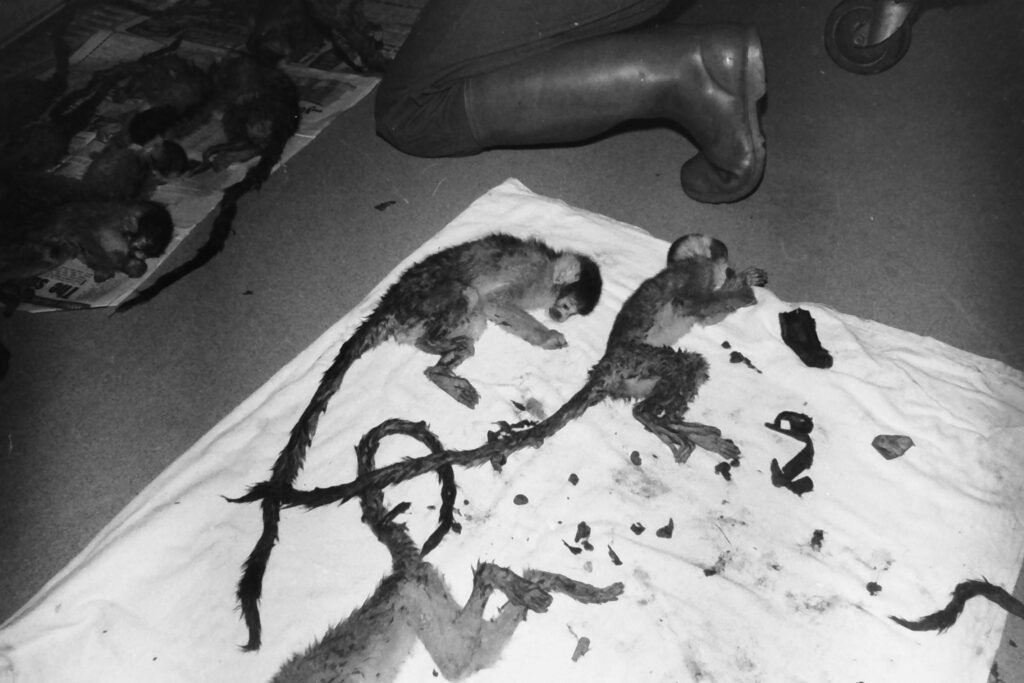 I unfortunately experienced these tragedies in the 70's and 80's as an animal inspector and manager of the then Animal Quarantine Station that took over from the RSPCA. What upset me most was the look of despair, hopelessness and fear on their little faces and their dejected demeanour. Even more sadly they would often put their hands through the wire for reassurance which was heart-breaking.
Investigations always promised but nothing ever changed.
After each tragic and fatal incident, the airlines, government authorities, shippers and importers promised investigations and inquiries into the trade, but nothing came from them or changed. Despite assurances from the RSPCA and airlines that the standards of crating were improving and mortality diminishing the deaths continued. It was never going to change because shippers were only interested in keeping cargo costs to the minimum and the carriers did not want to lose money by refusing trade. The airports realised that if they intervened the shippers would avoid Heathrow and route them elsewhere.
And it was not just by air. The fifties were a cross over time when animal shippers were moving from sea transport to aircraft, but monkey shipments were still suffering on board ships. In September 1959, 300 monkeys left Singapore on what was called a "horror voyage" to London onboard a Ben Line Steamer, and 120 were found dead when they arrived at the docks. Large adults, youngsters and pregnant females had all been crammed together in crates and fought over food killing each other. Again, they were removed to the airport hostel where one RSPCA girl stated to the media that "it was a terrible sight. I shall forget it for as long as I live". The monkeys then had to face another voyage to Rotterdam and their destination.
Monkeys are still shipped round the world for research.
Even today more than 80 years after it all started, primates are still being airlifted around the world. The numbers may be much smaller and most are captive they still must suffer the stress of transportation. Welfare organisations still plead with airlines to stop carrying them. They have had some success with many having placed a ban on their carriage.
Associated Book:
A book chronicling the cruelty and suffering caused to animals passing through Heathrow Airport in 1970/80s with graphic images and Foreword by Sir Peter Scott.
ISBN 978-1519300164 56 pages + graphic photos of animal cruelty.
RRP £5.99
Special offer by buying now online from bitzabooks.com £4.99 + £1.50 p&p UK Orders Only.
Overseas orders please contact us at bitzabooks@gmail.com for price.
BUY NOW ONLINE FROM BITZBOOKS USING PAYPAL: